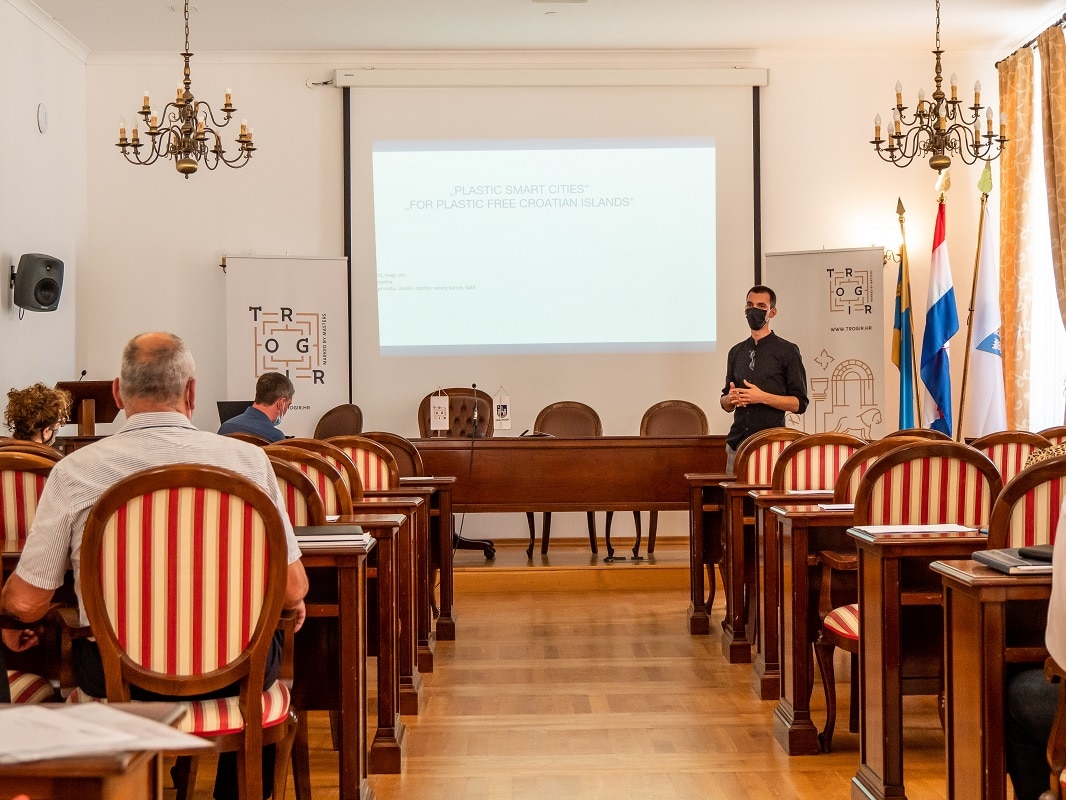 At a two-day workshop held at the City Hall of Trogir on June 28 and 29, the City of Trogir officially adopted the Action Plan for Reducing Plastic Pollution for the Period from 2021 to 2026, which includes the implementation of measures and activities to reduce the leakage of plastic waste into the environment. It thus became the second city in Croatia, after Dubrovnik, to adopt one such document.
On the first day of the workshop, Mayor Ante Bilić signed the Plastic Pollution Reduction Action Plan developed through the Plastic Smart Cities Croatia project being realized in cooperation between the Association for Nature, Environment and Sustainable Development Sunce and WWF Mediterranean Marine Initiative. The project is a part of the Plastic Smart Cities global initiative, which Trogir joined in October 2020.
Mayor Ante Bilić reminded all present representatives of city administration and other public institutions that the city of Trogir completely removed disposable plastic from the City Administration last year, remedied the landfill, opened a recycling yard and renovated public buildings. He also pointed out that the City will continue to actively support all future project activities, such as plastic free public events, as well as the implementation of measures and activities defined in the Action Plan in different segments of social life and the local community through the use of alternative solutions for plastic and continue in the direction of developing sustainable tourism and a sustainable city.
The director of Trogir Holding, Božidar Miše, confirmed that by the end of 2022, Trogir will implement a door-to-door waste management system in the pilot area of the Plano settlement for a minimum of 200 households.
On the second day, a workshop was held for representatives of the city administration, public companies, cultural institutions and other stakeholders of the City of Trogir.
On behalf of the Sunce Association, project manager Marin Spetič presented the Plastic Smart Cities project as well as For Plastic Free Croatian Islands.
Marijan Galović, from Galović Consulting, spoke about European directives and waste management as he was the author of the Analysis on the basis of which an Action Plan was prepared in cooperation with the Association Sunce Split and the City of Trogir. Marijan explained all the details of the Plan with special reference to the implementation of the pilot project, the importance of adequate waste management and monitoring and remediation of illegal landfills, while project manager Marin Spetič presented the draft for the Decision on restricting the use of disposable plastics in all public companies and institutions, as well as all public events in the city.
Tagovi: